Mosquitoes are not just a nuisance; they are a health hazard to your family and pets.
Sherlock Homes has a safe, responsible solution.
Traditional mosquito services offered by most companies target the areas where mosquitoes hide during the day to minimize mosquito activity around your home. While this is an effective treatment, it has unintended and uncontrollable side effects. All flying insects use those same areas and pick up the same residual product. This means if you want to have a butterfly garden, this service cannot be done in your yard. This style of service also kills bees and other pollinators. Luckily, Sherlock Ho`mes has found a better way.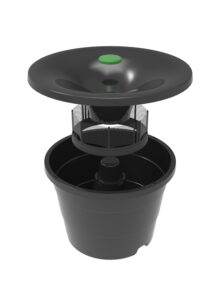 Sherlock Homes is a proud provider of In2Care Mosquito Traps. The In2Care Mosquito Trap lures and contaminates mosquitoes with a special slow-killing bioactive larvicide and let them spread this to other breeding sites (which are often hard to find and treat) so that mosquito larvae are not only killed inside the trap but also in its vicinity, with no chemical required. The product kills the mosquitoes and their offspring, so that populations are reduced significantly.
The best part is because this is a non-chemical product, it can be used without endangering other flying insects like bees and butterflies. This service is perfect to bundle as part of either your pest control or lawn care plan.
Yes, many counties and municipalities spray roadsides and ditches for mosquitoes, but these areas are not sufficient, that is why you still see mosquitoes around your yard. With localized, targeted service, you can minimize mosquitoes in your own space and helps you enjoy your yard in every season.